Thanks to the late arrival of humans, the wildlife of New Zealand had a lot of time to flourish. This means the islands are home to several interesting and endemic species. Here are a few of the unique creatures you can find in this spectacular country.
Hector's Dolphin
This dolphin species is the smallest variety you can find anywhere in the world. You can usually spot this interesting and energetic creature swimming off the shores of the South Island. Due to threats like vessel traffic, chemical pollution, habitat modification and especially bycatch in net fisheries, the numbers of this species are unfortunately decreasing and it has been listed as endangered. Over the years, we here at Active Earth Adventures and Hiking New Zealand have donated money to the conservation of the Hector's Dolphin. If you want to read what you can do to help these creatures, check out WWF or Project Jonah.
Tuatara
These creatures are also called 'the living dinosaur', as they are believed to be the last true remnant from the dinosaur age. These lizards are known to have an average lifespan of 60 years but could live up until 100 years. You can meet one in any of the many conservation centres in New Zealand such as Willowbank Wildlife Reserve, Pukaha National Wildlife Centre and West Coast Wildlife Centre.
Lesser Short-Tailed Bat
This particular species of bat is unique to New Zealand and has been designated an endangered species. To see it, you'd need to visit very specific locations within the country, such as Taranaki and Codfish Island. An interesting fact is that bats - known locally as Pekapeka - are New Zealand's only native land mammal.
Hamilton's Frog
Sadly, this frog species is gravely endangered due to threats like introduced mammals (such as rats) and disease. A little less than 300 of them can still be found on Stephens Island in the Marlborough Sounds. Aside from being unique to New Zealand, these frogs are also known for their inability to croak.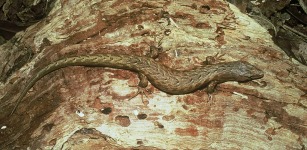 Chevron Skink
The Chevron Skink usually roam around the Great Barrier Island or Little Barrier Island, although these lizards are extremely rare, with only about 500 recorded sightings of them, you'd be lucky to see one here. An interesting fact about this lizard is that they give birth to live youngs rather than laying eggs.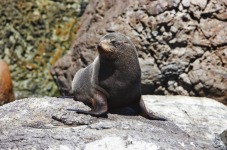 New Zealand Fur Seal
For a long time, these creatures were considered a delicacy and were hunted to near extinction. Fortunately, in 1978 the Fur Seal became fully protected by the Marine Mammals Protection Act and the numbers have increased ever since. These seals can be found on rocky shores throughout New Zealand, for example Cape Palliser and Castlepoint on the North Island, or Kaikoura and Milford Sound on the South Island.
On your next visit to New Zealand, do your best to see as many of these remarkable creatures as possible, because there's a high chance you won't see anything like them anywhere else.
---
You may also like