The summer holidays are over and the kids are back to school, but you know those Easter holidays roll around quickly! And what better time of year to explore some gems of New Zealand than autumn, when the weather is settled, and the leaves turn green landscapes into orange and yellow fields of flame.
If your chosen holiday destination requires a flight, make sure you have your travel insurance arranged before you depart (check out AMI Insurance NZ for a range of options).
Queenstown, Wanaka and Arrowtown, Central Otago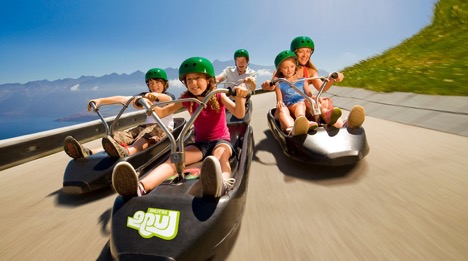 Autumn is truly the best time of year to visit Central Otago. The trees create a riot of colour alongside the banks of the mighty Clutha River. Queenstown is stunning but crowded, so head to Wanaka to enjoy a quieter pace of life (and just as beautiful). There are a raft of opportunities in the area to explore the natural beauty and history of the area. The gold rush in the 1860's scoured and scalped the landsides, providing a wealth of history to explore. Hire bikes and explore the area without the hum of a motor, or head up the Queenstown gondola and luge down. Mum & Dad can explore the local wineries and cheese shops and take some samples for home!
Take lots of photos and up your Insta game! Kids from 8-16 will enjoy this trip.
Hokianga, Northland
Close enough to Auckland that you can pop away for a long weekend, the Hokianga Harbour is a great place to visit. Marvel at the enormous Kauri trees along the coastline, some of which will be thousands of years old. Tane Mahuta is 1400 years old, and Te Matua Ngahere is 2000 years old… truly a relic from ancient times.
As you cruise along the coastline, stop in Opononi and catch a water taxi to North Head. Spend an afternoon making memories sand-boarding down the sand dunes- at 300m high, this is a thrill you'll get nowhere else! Spot orcas and dolphins, and take your togs for a swim. Kids of any age will love this trip!
Hokitika, West Coast
The West Coast has a rather wet reputation that is well-earned. But when you explore the area, you'll understand why it doesn't matter. Within a short walk of the town, there is a glow-worm dell that's free to visit. With a quick car trip, you can visit the powerful blowholes and incredible geology of Punakaiki Pancake Rocks to the north, or Arthurs Pass to the east to sight some cheeky keas! The treetop walkway is only a 15-minute drive from Hokitika. Take a jacket… a very watertight jacket. Kids 5-10 years old will love the adventures here and adults may recognise some of the scenes, straight out of the book 'The Luminaries'.
Stewart Island
You can fly or take a boat over to Rakiura, weather dependent. When you get there, you'll find a small village with a Four Square, a couple of pubs and cafes, and that's about it. Stewart Island is isolated but has incredible treasures in the form of the scenery and the wildly enthusiastic birdlife. Tuis dive-bomb each other (and you) as you tramp, while fantails flit around, hoping you've disturbed some bugs as you've walked. Kiwis, kaka, and bellbirds are all likely to be seen. Take a walk to Maori Beach, where you'll find an undisturbed gentle curve of pristine white beach, and historical machinery remains in the nearby bush.
If you remember your sand-fly repellent, kids from 5-18 will enjoy the active nature of this holiday.

Bay of Islands
At the other end of the country, you'll find the Bay of Islands. A boat ride from Paihia that cruises through the Hole in the Rock will be a highlight of any trip, but there's so much more to do. Swimming with dolphins, fishing charters or fishing from the wharf, complete with ice-cream afternoon teas (or breakfasts, lunches and dinners) in Russell. Waitangi is close by, so you can enjoy the history of the area and see the birthplace of New Zealand.
Paihia also offers some bursts of adrenalin, with Action World giving children and adults alike the chance to play on trapezes, slides, and trampolines. The Ngawha hot springs are a great place to unwind after a few days of action adventures!
Kids from toddlers up will be able to take full advantage of what this holiday has to offer.
South Taranaki
A road trip around Surf Highway 45 from Hawera to New Plymouth can take a couple of days, or a couple of weeks if you want. There are loads of activities along the coastline. Start with Tawhiti Museum which uses scale models and an interactive boat trip, bringing the past to life. For Mum (and maybe Dad), Eltham is known for its excellent op-shops. Oakura and Opunake offer stunning beaches with campgrounds- perfect for a few days of holiday. Then, New Plymouth has the Govett-Brewseter Art Gallery for local culture and Puke Ariki Museum for history buffs. With coastal walks, plenty of parks, and fresh air, you'll want to stay as long as you can. This trip can be tailored for kids of any age.

---
You may also like