Read on to discover the answers to some of the most frequently asked questions from our customers.
Do we all get involved with camp duties?
Everyone is fully involved with the running of the trip, from collecting firewood, to setting up camp, and cooking meals. You are expected to do your share of the work. If you are not a great cook, don't worry; your guide and other people in the group will help you. People often say that this is a great aspect of our trips that everyone is working together. Some of our most hilarious moments happen when people get tangled dismantling a tent on a windy day.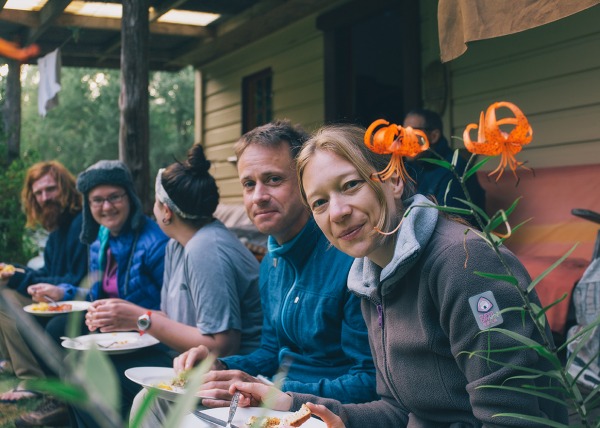 Does it matter if I am travelling alone?
Most of the people on our trips are travelling alone. The trips are an excellent way to meet and hang out with a fine bunch of people. There is time to chill out and take in the splendour too when you feel like a bit of solitude.
Can I do more than one trip?
Yes. More and more people are connecting trips to cover the whole of New Zealand. We really are the hassle-free way to experience New Zealand's best adventures.
I am travelling and have a lot of stuff that I will not need on the trip – what should I do with it?
You can store it at your accommodation if you plan on returning to the area. Or, you can travel with it on the trip. We allow a maximum space of 120 litres per person (1 large pack plus a day pack). Depending on how full the trip is, we may require you to forward excess luggage if you exceed this. During overnight hikes everything is locked securely in the vehicle.
What do I do with my valuables (passport, airline tickets, money) while we are hiking?
Keep them with you in your hiking pack. We pack all those things in plastic bags to keep them dry and keep them with us while we are hiking.
Can I be picked up at my hostel or accommodation?
No, sorry. We try to leave the city early so we can spend more time in the wilderness. Taxiing around Auckland drives everyone nuts and it's best to start in a good mood. We meet at a central location – the local Visitor Information Centre – so it doesn't cost you much to get there in a taxi, shuttle, bus, or by walking!
I'm a vegetarian – is that a problem?
Not at all. We usually have vegetarians in the group. All the guides are familiar with vegetarian cooking. We also have lots of excellent vegetarian recipes. Sometimes the whole group will cook vegetarian or we may cook a separate vegetarian meal. The hangi (Maori earth oven) meal is always a mixture of vegetarian and meat foods.
What is the weather going to be like?
New Zealand's weather is very changeable so you need to be prepared for any eventuality. Some days we can be broiling in 30 degrees and the next day we could be freezing in a cool southerly from the sub-Antarctic. It is best to be prepared for the worst conditions we are likely to expect – see our Weather page for links to New Zealand weather sites. We may get some rain on the trip so a good waterproof raincoat is important. It's warmer up north so thermal underwear and warm hats become an option rather than a necessity.
Who is the guide for my trip?
All the guides are carefully selected and trained. They are fun people with at least a decade of outdoor experience and mountain first aid certification, along with a natural history qualification. We plan the guide roster well in advance but there are occasionally last-minute changes to who is guiding what particular departure.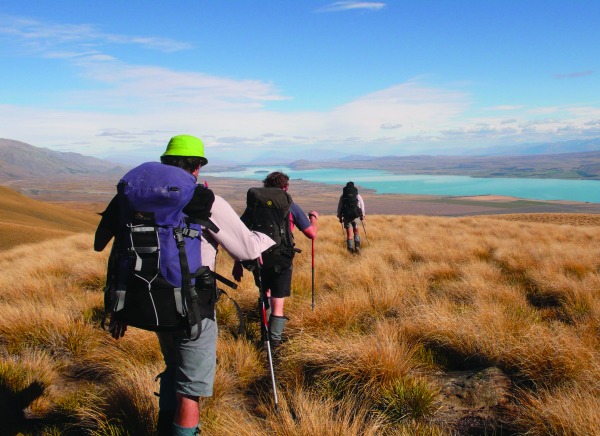 Which is the best trip to go on?
It depends on what you want, how much time you have, and where you want to go. You can do anything from our 6 day Far North beach trip to a combination of trips for 40 or more days! The Ultimate North trip has amazing volcanic scenery, the West Coast Wilderness has grand mountains and rainforests, and the Secret South has a lot of travel above the bushline and wildlife (dolphins, penguins, sea lions, and seals).
Will I be fit enough?
Our trips are graded on a scale from A to E. Read the Fitness page and choose a trip to suit you. If you are concerned about your fitness, get out on some day hikes in the weeks prior to your trip departure.
Who is in my group?
A maximum of 11 people, with a range of ages, nationalities, and work backgrounds. Most people are between 20 and 40, although we have had people from 17 to 72. On average, half are women and half are men. Everyone shares an enthusiasm for outdoor adventure and an appreciation of nature.
How far in advance do I need to book?
The sooner the better for trips departing in the peak season (November-April). We get many advance bookings so it is important to book early to avoid disappointment.
Do I really need boots and will they get wet?
Yes and yes! Good hiking boots are essential to protect your feet and provide ankle support. We hike through rough terrain, sometimes off-track. We frequently have to cross rivers with our boots on – this protects our feet from getting cut on sharp rocks. If we had to take our boots off every time we crossed a river we'd take forever to get anywhere. One traveller who recently completed a trip said: "my most favourite part of the trip was the discovery that walking in soggy boots and socks after crossing rivers is quite comfortable".
What type of gear should I buy?
If you intend to do a lot of hiking then it is worth buying quality equipment – good leather hiking boots and hiking clothing. If you think you might not do any more hiking after the trip then you could buy cheaper alternatives. Just remember that it won't last as long or do the job as well. See our Recommended gear list for advice on the items you need to bring.
Will I be able to do laundry during my trip?
Yes, at least once, usually halfway through the trip. There is always the opportunity to hand-wash those essential items. We recommend bringing items that are quick drying and plenty of spare pairs of socks and underwear, since you will most likely have to line-dry clothing.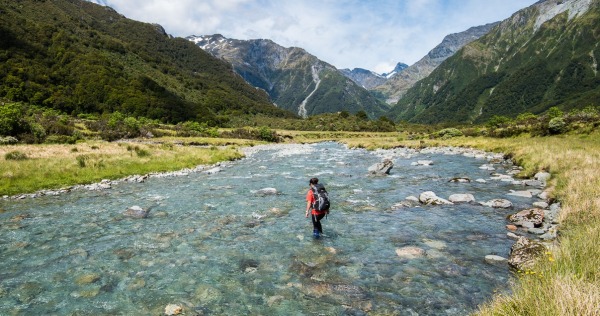 Can I charge my camera / phone / laptop etc while on the trip?
About two or three times per trip we stay at places that have electricity so you will be able to recharge batteries. If you have a vehicle adaptor, bring it along as there may be an opportunity to charge items while we are driving.
How much cash will I need during the trip?
Every 3 or 4 days we pass through a town so you can run off to the bank if you need to. You will need cash for any extras and optional activities such as kayaking.
What if I can't keep up with the rest of the group?
We hike together as a group, stopping often for snacks and a good lunch. Some activities are optional if you feel like having some time out.
Are we going to encounter dangerous animals?
New Zealand does not have any snakes, bears, lions, or alligators. We have a small poisonous spider called the katipo that is so rare that it was recently made a protected species. At certain times of the summer and autumn, wasps can be a problem in some of our beech forests. If you are allergic to their sting, then make sure you carry medication, and tell your guide about it at the beginning of the trip. Otherwise, it is great to climb through the bush and lie in the grass without a thing to worry about.
---
You may also like