New Zealand has some of the most breathtaking scenery. If there's any truth to the saying that your first trip to New Zealand would spoil you for other destinations, it's understandable that you'd want to see for yourself.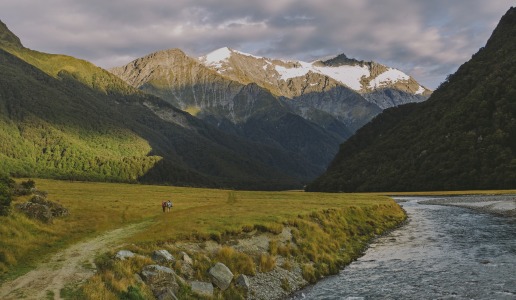 Planning an entire trip on your own can be very time consuming, especially if you've never been to the destination before, and that's just one of the reasons a guided trip is a great option. Let us do the work for you and the only thing you need to do is pack your bags and get excited about your journey.
Here are a few reasons why you may choose to do a guided trip.
Meet people
Sharing your experience with other outdoor enthusiasts will make the trip even more memorable. The people on guided tours are usually like minded and there's a chance to make long lasting friends. Not much can compare to listening to, and sharing your own, adventurous stories around a campfire.
Relax
While travelling on your own, a lot of time and energy can be wasted on finding and deciding on what route to take, which accommodation to choose (and to book it before it's filled up), what and where to eat, etc. Not to mention all the arguments it can start! A guided tour will leave all those hard decisions to the tour operator while you can focus on enjoying your adventure. Let us sort out the itinerary details, logistics, and grocery shopping. Your job will be to have a great time!
Achieve more
A guided adventure can take you to places you wouldn't have thought of and perhaps challenge you to try new things, all in company of your experienced guide who will keep you safe at all times. It's a perfect way to push your limits while knowing you're in a safe environment.
Information
Visiting a new place is always exciting and hearing stories about the history and culture of the destination will take the experience to the next level. Guides will teach you about everything from the local flora and fauna to Maori stories and legends. Listening to someone who is really enthusiastic about the subject is always much more rewarding and memorable than reading a guide book or a sign.

Road Trip
If you are planning to experience the lush beauty of New Zealand by road, here's how to get the best out of your road trip for a memorable holiday.


Get Off the Beaten Track
Driving no more than a couple of hours in any direction of your choice could bring you to a thriving city, rural town, gently rolling wine country, rugged alpine highlands or a sunny beach. There are so many magnificent places and things to discover and getting off the beaten track will help you find unique spots.
That's the real beauty of a New Zealand road trip. There are simply too many breathtaking vistas in New Zealand not to work in plenty of time to pause and admire them and make great memories by taking photos you and your loved ones will enjoy. Because New Zealand is not heavily populated, you can benefit a lot from being spontaneous. Take an unplanned a turn into an interesting looking road and you could find yourself at a dreamily beautiful and remote beach.

Take Your Sweet Time
A lot of travellers unfamiliar with the roads in New Zealand make the mistake of not setting aside enough time to get from place to place and really enjoy the experience. The roads are unique and will look different from what you are used to in Europe, United States, or other parts of the world. Bridges on state highways are, for instance, single lane. Each of the roads are unique so you cannot make blanket conclusions based on your experience on one road.
There are many incredibly beautiful views that you'll miss out on when your focus is on trying to zoom across the country at top speed. One of the best things about exploring a new country is that you'll have the chance to try new things which you might never get to experience if you had stayed at home.
Make your road trip a memorable one by trying out new food (whitebait fritters remains our favourite – odd but delicious) or daring feats (treat yourself to a full 8 seconds of freefall at Nevis Bungy near Queenstown).
Don't wrap up your road trip without taking time to appreciate the incredible vistas on offer. Taking a patient approach to your road trip will also give you the chance to enjoy the charming small towns and get a real taste of what Kiwi rural life is all about. Fortunately, Kiwis don't discuss distance when you are trying to calculate how far away a location is. They will instead, tell you how long it will take to get there. Use the time suggestions to plan your trips properly.



Understand the Camping System
If it's your first road trip experience in New Zealand, understanding the camping system might feel quite overwhelming.. You could be fined if caught camping without the right van or in a restricted area.
Over the years, freedom camping has changed mostly because of increased tourism. If you prefer to have your camping taken care of for you, then holiday camps might be a better alternative. You can camp the whole trip in holiday camps and enjoy better facilities.

Don't Crash or Get Crashed Into
Sounds obvious, but it's New Zealand and crashing or having someone run into you can happen. People have been known to just pull over to the side of the road without warning just to take pictures of the beautiful view. It is important, therefore, to watch your following distances. Don't forget to maintain the speed limits.
If you are not familiar with driving on the left extra care is required especially on gravel or dirt roads with no markings. It's certainly better to ensure your safety by driving slowly, so allow faster traffic to pass you.
It's also helpful to remember that road trips are less about the destination and more about the journey.

Talk to the Locals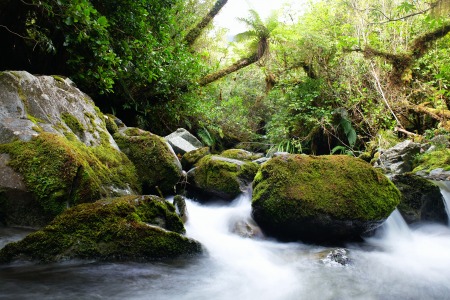 New Zealanders in general are friendly people who would be happy to chat with you in their spare time or point you in the right direction. Stopping to chat with them and gain some local knowledge will help you discover or create authentic holiday experiences that your tourist guides probably haven't even heard about.
They can show you to the best spots for local meals, drinks and whatever form of entertainment you want to experience while on your trip. In addition, getting to know the locals will provide you with a better insight into Kiwi culture, help you make new friends, and greatly enhance your overall experience.
Without taking away from the gloriousness of a road trip adventure in New Zealand, you can only get so much of the natural beauty from the side of the road. Remember to pack some decent walking shoes, so that you can add a few 'bushwalk' experience in New Zealand's lush native forest to complete your trip.
Don't miss the opportunity to explore the picturesque backcountry because you are fixated on getting full value on your rented car. Park the car on some days and get into the wilderness. Make sure you have parked in safe locations to ensure your property is adequately protected. You may have to pay for parking to be able to guarantee this - do not hesitate.

Protect Yourself with Travel Insurance

Since travelling around New Zealand by rental car or campervan is a common occurrence, it is always advisable to be extra careful on the roads. Particularly on mountainous terrains, the roads can become hazardous with fellow drivers, strong winds, snow, fog and ice.
If you are involved in an accident, your travel insurance may cover the excess on your vehicle in addition to your personal liability for compensation payment. Also, exercise caution by removing valuables from the car in order to avoid theft, which can be quite common in tourist areas. You should carry cash, passports and other documents at all times and only leave personal items hidden in the boot of your car.
---
You may also like