Kids Love Cycling Holidays Too!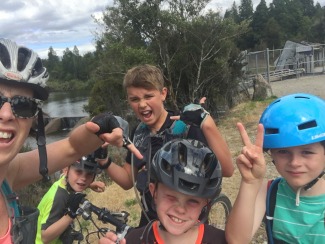 New Zealand has gone cycling mad, with cycling now the fastest growing mode of transport in cities and towns in New Zealand. With the advent of the New Zealand Cycle Trail, explore the incredible New Zealand scenery than on a bicycle has never been so easy. Just imagine pedalling along quiet roads, paths, and tracks with the wind in your hair admiring the beautiful countryside around you. New Zealand is perfect for cycle touring and having children does not stop you from getting on your bike. What considerations are there when taking your children on a cycling holiday?
Transporting your family
The equipment you need depends on the age of your children. As far as transportation is concerned, trailers can carry children from 6 months to 6 years old. Many trailers take 2 children as well as having space for a few bits and pieces and it is a great place for a little one to have a quick snooze en route. Children ages 6 months to 5 years old are also able to sit in a rear bike seat which is fitted behind the adult's saddle. They are lighter than a trailer and your child gets a great view but your bike will be more unstable.
Children's bikes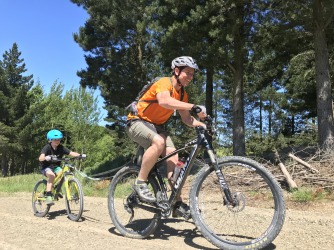 First, you must ensure that everyone has a cycle helmet as it is illegal to ride without one. When your child is abit older and has beenfitted for their first bike they will be keen to joinin, tagalongs are a great way for them to feel like they are cycling while ensuring their safety. Suitable for children aged 4 to 9 years, the tagalong is attached to the adult's bike or the child's bike is attached using a tagalong-style device. Your child will feel like they are contributing to the ride but may feel cold whennot pedalling. And when your child is confident on their own two wheels they will join in with you!
Route considerations
Regardless of whether you are carrying or pulling your children along or if they are cycling on their own bicycle then route choice and distance is all important. Choose a route which is as flat as possible and traffic free. Plan for lots of snack, toilet and rest stops and don't plan on going too far as your children only have little legs and will get tired and try to make sure that there are plenty of interesting things to see and do en route. There are plenty of family-friendly rides and trails across New Zealand from the purpose-built The New Plymouth Coastal Walkway, Taranaki to the Raglan Inlet Track where you can start your day with a family surf.
Cycling as a family can be really fun and is, of course, a healthy activity full of fresh air and great views. Taking your children with you will give rise to a long-lasting love of exercise and the great outdoors. Get on your bikes and have fun!

Jane Freeman
---
You may also like