Active Earth Adventures put together a detailed list of 'things to do' in Auckland. Now you will definitely not run out of ideas and get bored.
Some worthy little trips
Catch the ferry to Devonport, enjoy a coffee and climb one of the wee volcanic cones (Mt Victoria or North Head).
Have fish and chips and swim on the beach at Mission Bay (10 kilometres east of the city – bus, bike or blade to get there).
Explore Aotea markets (Saturday and Sunday). Otara market is really interesting but you need a car to get there.
Wander up Mt Eden for a social sunset. Or Mt Hobson if you want some peace and quiet, walk from Newmarket.
Catch the ferry to Rangitoto (harbour volcano) - or kayak - see below and climb its summit (allow at least ½ day).
Visit Kelly Tarlton's Sea Life Aquarium.
Ferry to Tiritiri Matangi, a bird sanctuary 75 minutes from downtown Auckland (allow full day).
Go wilderness canyoning in the stunning Sleeping God or Blue Canyons (trips leave daily from downtown). www.canyonz.co.nz 0800 4 CANYONZ
Sea kayak in the the stunning Hauraki Gulf - leave right from downtown. Auckland really is all about the volcanic islands, sandy beaches and wildlife reserves. It's a short day paddle to the wilderness volcano of Rangitoto. www.AucklandSeaKayaks.co.nz.
Day trip (rent a car) north to graze Matakana Market on a Saturday morning and on to Tawharanui Regional Park (our pick Anchor Bay) for swimming and smoldering about in the afternoon. Now you understand why people choose to live in Auckland.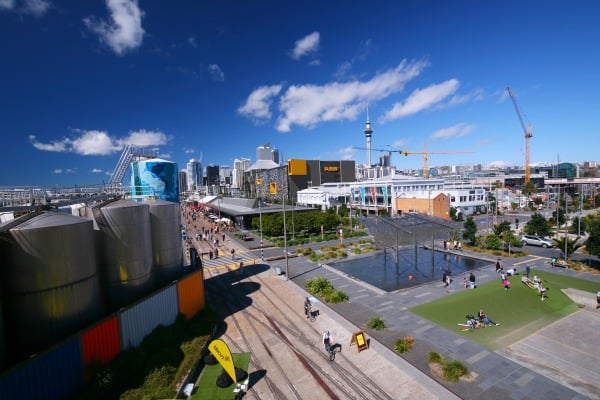 City cruising
Indulge in the café culture of downtown (Lorne Street, Vulcan Lane and Viaduct Harbour Basin) or for satellite city areas, Ponsonby and Jervois Road, and Parnell off High Street.
Gelato ice cream. Giapo for excruciatingly good gelato ice cream (as opposed to just ordinary excellent). Italian owned and operated, I am told they make their own gelato daily. 279 Queen Street - just down from Aotea Square - ciao.
Sky Jump off the Sky Tower, or try the Sky Walk. Bungy off Auckland harbour bridge.
Check out the retro salt-water pools in Parnell. Sail an America's Cup yacht. Feed ducks in the Auckland Domain, read a book in the winter garden - take out coffee and breads 50 metres away, and visit the excellent Auckland Museum. An alternative to the Sky Tower... go up the BNZ Tower instead, a lot cheaper. Go to the BNZ Tower at 125 Queen Street. Go to the office in the basement and get a $4 entry token to the roof. A great place to picnic!
Cruise around viaduct basin pubs and restaurants (day or night), but especially the new (2012) Wynyard Quarter strip with Wellington/Melbourne landscape funkyness which is now the western part of this contiguous coastal margin. A lovely place to roam and lean during the day.
Nightlife
Listed roughly by areas.
Those with shiny shoes could hit the Viaduct Basin. For a central city pint try the Occidental (Belgium), London Bar or Murphy's. Sample some New Zealand beers at the Bluestone Room or the Northern Steamship. Boogie Wonderland (corner Queen and Custom Streets) is a 70s disco.
Rakinos (Level 1/35 High Street) is a laid-back, upstairs bar with a great city view and good atmosphere, or for a bit of the student life (up at the University) go to Shadows.
Off Queen Street, backpackers will love the Globe Bar. Near K Road, Khuja Lounge is funky and Fu Bar caters for D&B nuts. Ink bar (268 K Road) is cool for misbehaving adults.
The Wine Cellar, Downstairs in St Kevin's Arcade, 183 Karangahape Road, is a pretty discrete door to a labyrinth of worlds - think Prague perestroika - if you were there, you would know what we mean - music, expression, art, weirdness. The Cellar can be everything or nothing depending on the night (or your state of mind). If you're still awake later (much later) head up to K Road and dance. Wall to wall intimate pubs along Ponsonby Road.
And for two things you don't expect in the nightlife column.
Go star gazing at the Stardome Observatory Mt Albert – for a programme see www.stardome.org.nz.
And the talented Devonport Folk Music Club has well attended hilarious muso meetings/international visiting acts on Mondays in (yes in!) an 1891 bunker buried in Mt Victoria. You won't forget a night here with your fellow reprobates, no sir. Cheap red wine and a big open fire in the winter.
Out of the centre
For style with age in an Amsterdam kind of way try the bar Gypsy tearooms in Grey Lynn.
Walk to La Cigale French style Farmers Market, Saturday and Sunday mornings, excellent coffee and breads, 69 St Georges Bay Road (strand end), Parnell. It hums.
Full of beans?
Walk the Coast to Coast Walkway from the Viaduct to Onehunga Bay.
Rollerblade along the waterfront. You can hire inline skates from Fergs Kayaks.
Go to Piha (West Coast) and surf the BIG waves.
Hire kayaks from Fergs Kayaks (they do a great evening trip out to Rangitoto). You can hire bikes there too.
Hire a windsurfer and launch from Mission Bay.
Relax
Check out what summer events are happening courtesy of the Auckland City Council. Look at their events calendar. There is a lot to keep you happy here especially weekends and lots of free stuff.
Relax on the beach – the best ones are on the North Shore or Mission Bay. At high tide there are a few lovely beaches within walking distance of downtown, at the end of the streets leading north off Jervois Road, Ponsonby.
In the park – Auckland Domain, Albert Park or Myers Park.
Time on your side (day or more)
Ferry out to Waiheke or Kawau Islands, or if you have time, head to Great Barrier Island.
Find some friends and share a hire car to explore the northern beaches including Goat Island Marine Reserve.
Visit the Waitakere Ranges and focus on the bush tracks north/south along the wild coastline (check out the gannet colony at Muriwai Beach).
Or head south and travel around laid-back Coromandel (2-3 hours drive away).

Getting from A to Z
Check www.maxx.co.nz or 09 366 6400 for bus, train and ferry information within Auckland.
The Link bus does a convenient $0.50 circuit around the central city.
Stagecoach runs buses everywhere else (information from the bus station under Sky Tower). Buses are rarely on time but are usually frequent.
All ferries leave from or near the Ferry Building (bottom of Queen Street).
Hire cycles from Velo (60 Hobson Street, near Sky Tower) or Adventure Cycles (Laurie Street, Parnell).
Live sound
Check the gig guide in the free Groove Guide magazine or hop onto www.95bfm.com.
Good venues: The Kings Arms Tavern, Galatos, comedy night at the Comedy Club, Safari Lounge, Schooner Tavern (bingo night every Wednesday night), the Northern Steamship and Rakinos.
Cheap eats
Auckland is a melting pot for cuisine and there are some inspirational places to eat. To find them, check out Peter Calder's honest restaurant reviews in the New Zealand Herald.
There are plenty of fun cheap places to eat: Caravanserai, Mexican Café (City) or Mexicali Fresh (Waterfront), Cezanne (Ponsonby), Mai Thai (City), eat shoulder to shoulder at fantastically friendly Tanuki's Cave Yakitori Bar (Queen Street) or Wagamamas, Ken's (K Road yakitori), Salt Fish and Chips (top of Richmond Road), any of the numerous central city food courts, or Hare Krishna Food for Life (vegetarian restaurant on K Road). Pacific meets Italy at Verona Café on K Road.
For a few more $$ try Orbital (in the Sky Tower) or Aga (Mission Bay). The mussels at the Occidental, in Vulcan Lane, are highly recommended. Alleluya Café (St Kevin's Arcade, 12 K Road) has a city view, eclectic tables and is good during the day (take a book). For late night coffee and snacks try the Merchant Mezze bar on Durham Street East.
Not so cheap eats
Here are three fantastic restaurants for a special occasion meal out (all need booking usually).
Cibo - 91 St Georges Bay Road, Parnell, 09 303 9660.
Engine Room Eatery - 115 Queen Street, Northcote Point, North Shore (NOT QUEEN ST DOWNTOWN!), 09 480 9502.
Merediths - 365 Dominion Road, Mt Eden, 09 623 3140.
Eating in
Need your own supplies? Central city supermarkets include New World (on Victoria Street West, just after Victoria Park Markets) and Countdown (76 Quay Street). Immediate supplies can be found at one of the many Star Marts.
Shopping – heaven forbid
If Queen Street doesn't do it for you, try High Street and its surrounds or Ponsonby Road for young New Zealand Designers; K Road for second-hand stores and a little multi-cultural gift shopping; or go to Newmarket for major retail chains. For something distinctly New Zealand but not tacky try the Auckland Museum shop, The Garden Party (Viaduct or Ponsonby Road), or the NZ shop on Broadway (Newmarket, near the Warehouse).
For outdoor gear check out Bivouac Outdoor, www.bivouac.co.nz, (you get 10% off if you say you are a Hiking New Zealand customer) or Snowgum and Kathmandu (Queen Street).
Real Groovy (Queen Street) is without doubt the best record shop in Auckland!
Markets are held at Aotea Square (Friday and Saturday), K Road (Saturday) and Otara (early morning start on Saturday).
It's raining again
Go to the movies or check out a play. Check NZ Herald for details. Go indoor go-karting, visit the Auckland City Art Gallery or the National Maritime Museum, write a letter to mum, or head to Borders Bookshop (Queen Street) and drink coffee and read their books – that's what you are supposed to do!
The odd
Check out the HUGE Britomart underground train station (bottom of Queen Street) to understand just how bad public transport can be. If you're lucky you might actually see a train leave! Or you can freak yourself out by jumping on the glass domes above the Britomart at street level – cool.
Annoy locals by asking what happened to the tree at One Tree Hill (the stump is actually at the Stardome).
Still bored?
Beg or borrow some cardboard and spend the day sliding down Auckland's many volcanoes (according to the fun police, this may harm the environment, sorry). Alternatively hire a bike and see how many volcanoes you can summit in one day. Bike Central has bikes you can hire for a half day (4 hours), a full day or per week.
Useful stuff
More information can be found at the Auckland Information Centres under the Sky Tower and on Princess Wharf.
The Department of Conservation is in the Princess Wharf information centre. Poste Restante CPO at NZ Post, in the Bledisloe Building in Wellesley Street (09 379 6714).
Airbus operates from the airport to city every 10 minutes at peak times (0800 247 287 www.airbus.co.nz).
Check the official Auckland website at www.aucklandnz.com for current events and things to do.
---
You may also like