There is nothing worse than organising a ride into the backcountry and you experience a mechanical or the weather suddenly changes when you are out there. Here are some suggestions on what to take to help you solve a potential bike problem (or weather change). Some are obvious, some not.
1. Spare tube/s
Even with the development of tubeless tyres I would still take a spare tube (or two). When riding with a group there is no doubt someone may forget their spare tube. With three wheel sizes to choose from now it can be tricky, however you can stretch a smaller tube over a larger wheel if need be. Carry a patch kit too - super light and takes up no space.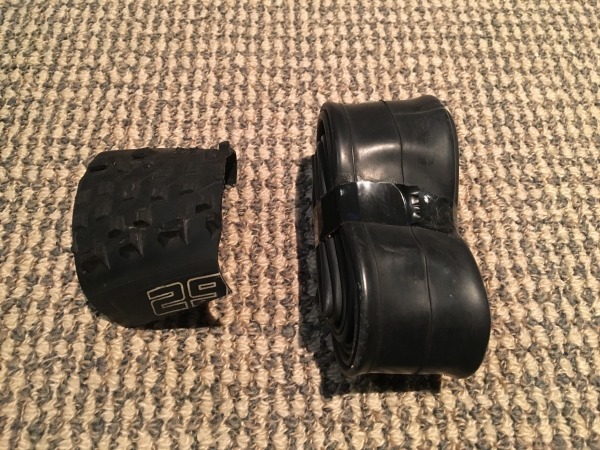 2. Tyre boot (for a sidewall blowout)
It does happen, it's happened to us. Two hours into an 87km A to B ride over two days we had a sidewall tyre blowout. Thankfully another rider came through with a tyre patch and we could pop that on the inside of the existing tyre and voila it held for the rest of the trip. I never ride without one now. A small section of an old mountain bike tyre is perfect.
3. Tyre, pump and levers
Easy, you need them, so take them - never go anywhere without them.

4. Multi-tool
These can be heavy but can get you out of strife in so many ways. I invested in one for hubby about 15 years ago and it's still going strong. Get one that has a chain breaker. A decent one costs around NZ$60. The Crankbrothers have a good option.
5. First aid kit
Include a survival bag and steri-strips in your simple first aid kit and you're sorted. A basic understanding of first aid would help when it comes to using it! Consider doing a First Aid course to keep you updated.
6. Chain lube
An optional addition but if your trip is likely to encounter multiple river crossings or super dusty track conditions throw in a mini size bottle of chain lube. Use a rubber band to tie a small rag to the bottle for wiping off the excess lube.
7. Sunscreen
Pretty standard these days, but remember to reapply if you are sweating a lot. Don't apply sunscreen to your forehead, there is nothing worse than sunscreen dripping into your eyes whilst you are grunting it out on the trails.
8. Phone or PLB (Personal Locator Beacon)
In case of an emergency, communication with emergency services is key to getting help. A phone is sufficient if you know you will have reception. A PLB for when you are in the backcountry means you can alert emergency services to your location and your need for help even if there is no reception.
9. Lightweight rain jacket
Weather is changeable and you won't regret investing in a quality waterproof shell. Try to have a jacket with the waterproof rating over 10,000mm and the breathability between 10,000 – 15,000g/m² – although any jacket is better than none. The MacPac Hightail has been a great option and proved its worthiness for hubby recently on The Pioneer when the weather turned rough.

10. Derailleur hanger
Unless you want an impromptu single-speed conversion, it could be a good idea to pack a spare derailleur. This is pretty much essential for touring or an epic mountain bike ride. These are usually frame specific too.
11. Zip-ties (cable tie)
Handy to repair a number of things on your bike or gear.
12. Chain links (Quick links)
These are cheap, light and will get you going again super-fast if you break your chain. Once again these are specific to your gearing ie 10 speed or 11 speed etc
13. Spare spoke with a nipple
You can often 'ride it out' on one broken spoke but there is no harm in carrying a spare one with you as when one spoke breaks it more often than not means more could follow. Especially handy if you are only a day into a multiday ride. Pack it safely into your pack to keep it from bending!

---
You may also like