Peru is not only a country offering some of the best sites and activities for travellers of all kinds, but it is also an entire universe in itself that holds ancient and enigmatic history and traditions that find themselves emerging and being discovered every day by more and more people. The ancient cultures of Peru and the influences that have arrived throughout history have made Peru a gold mine for visitors looking for adventure. One such adventure that is trending more and more is trekking. Although trekking is becoming more popular by the day, the art of walking long distances over difficult and sometimes inhospitable terrain has been an important part of Peruvian cultures for centuries, as this was a way of delivering messages and information, as well as a means of transportation and discovery. For these reasons, Peru is filled with some of the world's most adventurous and ancient trekking trails. Here is our list of the Top 5 Trekking Spots in Peru.
Inca Trail to Machu Picchu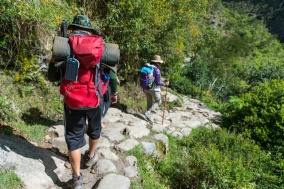 Start: at km 82 (82 kilometres along the railway from Cusco to Aguas Calientes)
Finish: Machu Picchu
Days: 4-days
Camino Inca is a 26-mile long trail that arrives at the enigmatic Inca city of Machu Picchu. Inca Trail covers territory ranging from deep forests and thick jungle to imposing mountains and arid desert, weather changing accordingly. The trail has three different routes that vary in length; facing harsh obstacles and adventures like climbing up to about 13,800ft and passing through Inca ruins.
This challenging trail captivates trekkers because of its history and mysticism, as well as for its natural diversity and beauty. However, it is also very demanding physically and mentally. Make sure to plan ahead since the popularity and the scheduled maintenance of this trail make it difficult to book a spot.
Vilcabamba Trail
Start: Cusco / Vilcabamba Valley / Chaullay
Finish: Machu Picchu
Days: 5-days
This trek might have to be reserved for the more experienced trekkers. Few visitors for such a popular spot are a reflection of Vilcabamba Trail´s difficulty level. The symbolism and mysticism surrounding Vilcabamba include the fact that it was considered a lost city and the trail that leads there is treacherous and dangerous. It includes passing through snow-capped mountains going all the way down through deep jungle, a big part of the trail has been overgrown with plants and there is wild life all around, some of which might pose some danger. The advantage is that since only a few dozen visitors dare to take on this trail, so you might find yourself in an Inca Lost City all by yourself.

Salkantay Trail
Start: Cusco / Mollepata
Finish: Machu Picchu
Days: 5-days
If you are looking for an alternative to the often overcrowded,overbooked, and maybe overrated Inca Trail, then Salkantay Trail is perfect for you. In this moderate to challenging difficulty level trail, trekkers have the opportunity to take in wonderful views of Machu Picchu and the imposing Salkantay and Humantay peaks in the Andes mountains. Also fascinating is the chance to meet coffee farmers along the way to learn more about local culture and perhaps have one of the freshest cups of coffee of your life.
Complete with ancient ruins (Llactapata), lush forest, breathtaking mountains, views of Machu Picchu, and direct contact with ancient local culture, this trail is truly worth trekking while it is still a bit under the radar.

Choquequirao Trail
Start: Cusco / Cachora
Finish: Choquequirao
Days: 4-days
Continuing with the idea of exploring trailsthat might not be as popular as the Inca Trail, but that capture much more of the ancient Peruvian culture and also manage to explore great natural landscapes, we present the Choquequirao Trail.
Choquequirao is an ancient city whose ruins are reminiscent of a majestic place where the Inca searched refuge. The trail to Choquequirao takes trekkers through a vast landscape that keeps morphing from impressive mountains to dense forest, making it a wonderful experience surrounded by few to none other trekkers in a challenging trail that ends up in a mystic and magical ancient city.

Huayhuash Trail
Start: Lima / Huarez
Finish: Llamac
Days: 14-days
The Huayhuash Trail is truly filled with history and mysticism that give it a different vibe from other more popular trails. The history surrounding this trekking adventure include stories of trekkers actually dying either from the dangers of the terrain and climate or at the hands of guerrilla sicarios belonging to the infamous Sendero Luminoso (Shining Path) rebel terrorist group.
The Peruvian government has made important investments in developing the area and its infrastructure, and this path has become much safer and is constantly gaining popularity among trekkers and hikers.
The path around the Huayhuash Cordillera is one of the most intense and challenging treks in Peru. It takes adventurers on an 80-mile long trail through glaciers and forests, climbing up to about 18,000 feet in Peru´s second tallest peak Yerupajá, and Siula Grande mountain, and climbing back down to virginal blue lagoons and forests. This trek is truly remote and allows trekkers to admire astounding natural beauty.


Written by Diego Garzón of AllTheRooms
---
You may also like