Every wilderness adventure is different, every hiking route has its own character, and every camping trip its unique quirks. You can do your research, take the best advice, and prepare accordingly, but it is not until you actually hit the trail that you will learn what exactly lies in store for you - after all, the essence of adventuring in the outdoors is the joy of exploration and discovery.
Discovering the Cordillera Huayhuash
On our recent guided trip in the Peruvian Andes, the Huayhuash Trek, our intrepid party of eleven were well-prepared and had varying levels of experience, but there were still things that surprised us.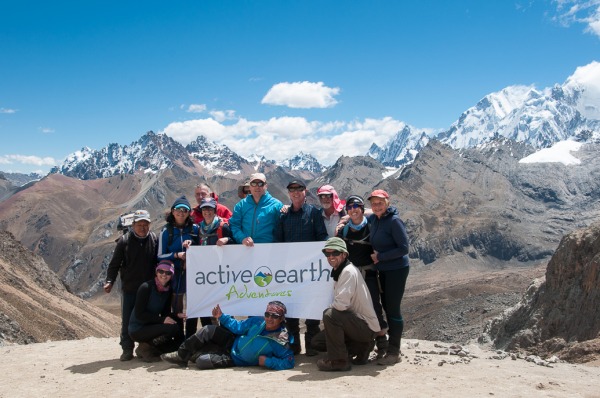 The trek is at altitude, often above 4000 metres, amongst majestic peaks which soar above 6000 meters. We knew this and we prepared for it. Most of us took Diamox medication to protect against the effects of altitude sickness but for some it was still a surprise just how much the unaccustomed human body can be affected by that thin mountain air.
We took it "easy" the first couple of days, staying in the comfort of an eco-lodge, a charming lodge in the Cordillera Blanca. We went on a couple of hikes to acclimate to the altitude, one of which, at 16 kilometres, ended up being one of our longer days - so much for "easy"! Even so, some of our party were surprised with just how much longer it took to cover distances at altitude. Our GPS showed that, once we were on the main trek, we covered less than ten kilometres on some days, but to some of our seasoned hikers it felt like twice that. Zig-zagging back and forth across the Sierra Huayhuash range we covered 150 kilometres over eleven days - a respectable tally but by no means off the charts. But to us sea-level dwellers, it felt like we'd put in far more effort than that. Lesson number one: altitude really does make a difference.
Lesson number two
When the sun goes behind those spectacular peaks, even in August, at that elevation it gets cold. Again, we knew this and we were prepared for it - with warm jackets to wear around camp and sleeping bags with "comfort ratings" of -5C or better. Even so, after hiking during the day in the glorious sunshine we were plenty warm - even though the ambient temperature would only reach around 10C - but as soon as the sun went down, we were reminded, once again, we were high in the mountains. The temperature would quickly fall below freezing, and we would be grateful for our beanies and puffer jackets.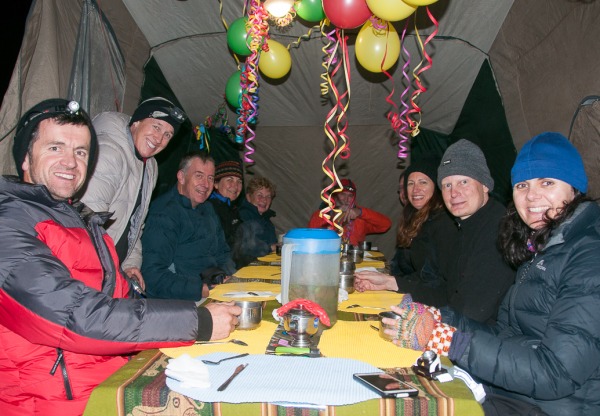 The hospitality of the local guides who accompanied us on the trip helped to keep us warm and cosy even when the temperatures dropped at night, too. Our group was spoiled with our Active Earth Adventures guide working with two local guides, a cook and his assistant - oh, and two men looking after a team of fourteen donkeys! We would set out from camp each morning after a delicious breakfast and coffee while the indefatigable crew would pack up the tents and load our packs onto the donkeys. After a couple of hours they would pass us and by the time we reached the next camp, they would have set up the dining tent, and everything would be ready for us to relax and soak up the amazing views.
And what views they were!
Another thing that we knew before we came on the trip is that we would be walking in the shadow of some mighty mountains, with dozens of peaks in the Sierra Huayhuash range measuring above 5000 metres. But until we were trekking across the range, we didn't have a real sense of what this meant. These towering peaks aren't in the distance, they are right there, with vertical faces soaring above you. You have a sense that you are really trekking in the mountains and not just near them. The amazing thing about this is that in many other mountain ranges around the world, to get this experience you would have to be doing some full-on mountain climbing, with all the expertise, equipment and risk that involves. On this trek, we were crossing the range multiple times and getting up close to many of its major peaks, all while keeping to a relatively well-formed and navigable trail.
Engaging locals
Sometimes, we would cross paths with some locals, often farmers who had come up from their villages with their stock - cattle, sheep, sometimes llamas - or families enjoying the spectacular environment they are lucky enough to call home. One day we diverted from the trail to visit a village called Huayllapa. Some of us had brought useful gifts to give to local children - pens, exercise books and the like. We handed a few of these out and soon we had an entourage of curious children checking out our party.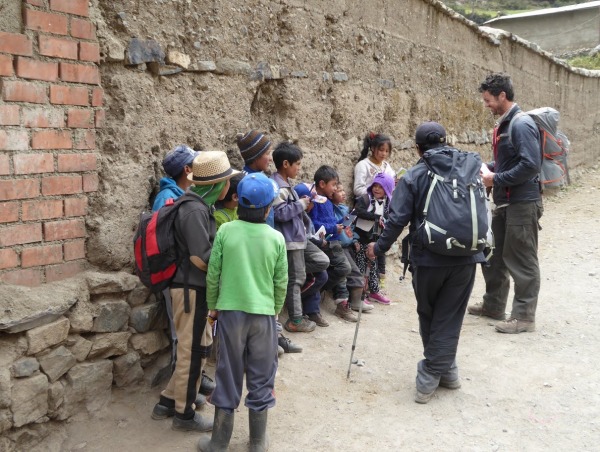 As with elsewhere in Peru, we found the locals lovely to deal with - friendly and laid-back. They were happy to communicate if you wanted to, but left you alone to do your own thing, too. In Huayllapa, no-one spoke English, but with the help of some broken Spanish on our end and our local guides translating, we were able to have a good chat to some of the villagers. The locals have a real sense of ownership here - a few years ago they successfully fought a proposal to turn the region into a national park, preferring to keep control over their ancestral homelands. We also learned that there had been discussion of allowing a foreign mining company to explore for minerals to the point that one community had allowed a road to be built for the purpose. Luckily, neighbouring communities were of the opinion that the conservation and tourism potential of the area was too great to endanger with mining, and the road remains an unused road to nowhere.
We felt very grateful for the local people's wisdom in helping to preserve the natural beauty of the area as we trekked through the mountains, discovering the unique and awesome character of the Huayhuash Cordillera, a trip none of us will forget.

---
You may also like